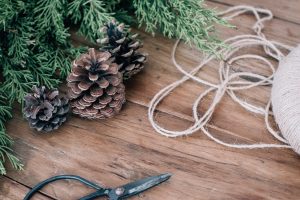 Let's face it: weddings are expensive. The average cost of a wedding in Canada is $30,000, Nation Valley News reports. If you're currently wedding planning, you're probably working hard to create your dream day without completely breaking the bank. Fortunately, DIY wedding favours are a great way to save some money while creating touching gifts for your guests.
Mini herb garden
Giving your guests a mini herb garden is an economical and thoughtful idea. Choose a different fresh herb for each individual guest. Lemongrass, kaffir lime, oregano, and rosemary, in particular, are nice choices. You can also take this opportunity to recycle your old containers. For example, a yogurt pot (or similar plastic container) is all you need to make an attractive herb pot. Simply get creative and customize it with the ribbon, fabric, paint, and/or glitter your choosing. Assign a herb pot to each guest. Alternately, place all the herb pots together on a table to let your guests choose their own.
Felt citrus coasters
Felt citrus coasters are a cute gift that brightens up any table. All you need is some felt, a citrus coaster template, a sewing machine, and thread. Simply cut out the felt according to the template: you'll have two large coloured circles (the backing and peel), one large ecru circle (the pith), and eight coloured segments (which you cut tiny holes in to resemble seeds). Next, arrange all the pieces of the coaster and pin in place. If you're new to sewing, use a machine suitable for beginners. Models with automatic needle threaders and push-button stitch selection are easy to use. You can then use the machine to sew a small running stitch which joins all the pieces together, and flatten it to finish.
Washi tape tea lights
Who doesn't love washi tape? Washi tape tea lights make fun and cost-effective gifts. Simply purchase some tea lights in small glass holders and pick out some pretty-patterned washi tape. Wrap the tape around the sides of metal tea light holders. You may need to cut the tape and flatten it over the bottom of the tea light if there's excess. To complete the gift, put a selection of two to three tea lights into a small organza bag, and tie the bag with a bow.
These DIY wedding favours couldn't be simpler to make. Not only are they inexpensive, but your guests will love the handmade touch.