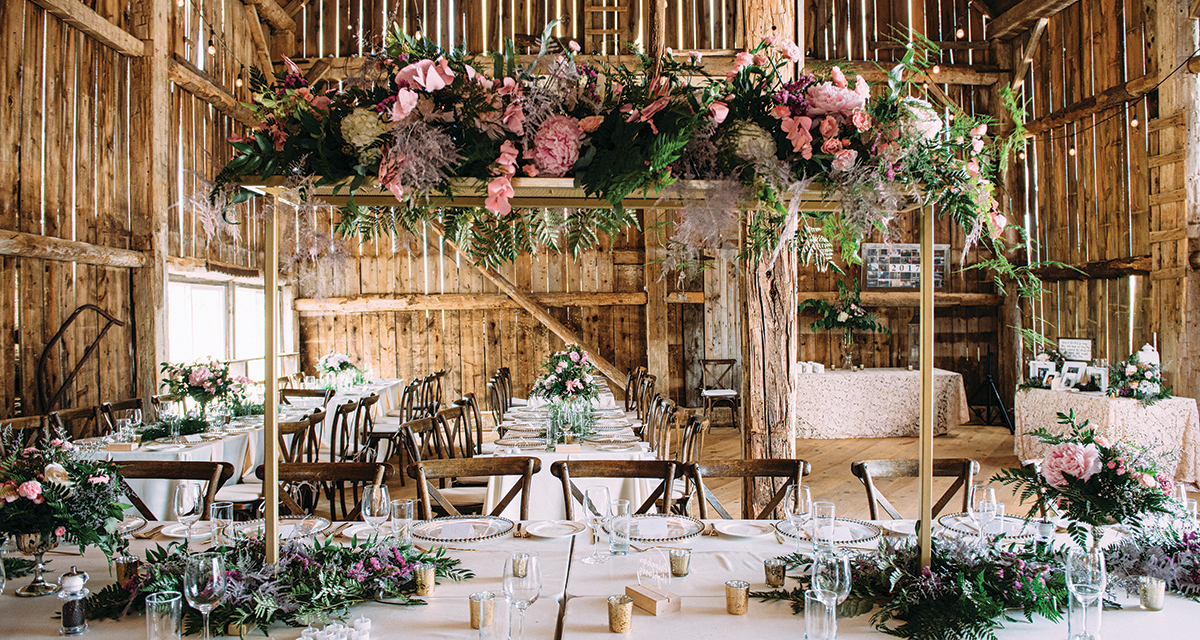 Event coordinator and designer Nicole Khalil, owner of Eventful by Nicole, knows how to make wedding celebrations gorgeous and amazing. She tells us how she transformed the barn at a venue in White Lake into a remarkably lovely setting for a memorable occasion last summer.
Can you tell us about Olivia and Dave's July 2019 wedding day at Campbell Farm?
Olivia and David had booked this venue, located 45 minutes outside Ottawa in White Lake, because they wanted a "barn wedding." They knew they needed big help to make their vision come to life, so I not only designed the wedding but also planned it with them from the start. The site in Mississippi Mills has belonged to owner James Campbell's family since 1902, and the property is amazingly well kept and groomed. The barn was built in 1909, and it truly is a barn.
Big spaces like this venue have never intimidated me, though, and what was great about working with Olivia and David is they mixed and matched the design elements I presented to them as options. I think that is why this wedding truly looked so beautiful.
There were 210 guests, and festivities started at 5 p.m. with a cocktail reception and live music. The evening ended with the couple's favourite party songs, a late night buffet and a dessert bar.
What style and theme did this couple want for their big day?
Although Olivia and David wanted a "barn wedding" they wanted the interior of the barn to have a soft, whimsical look. To achieve that ambience I used drapery for the magnificent front opening, along with layered floral chandeliers, and lots of greenery. I wanted the decor to be polished and unpolished at the same time. We used gold plated cutlery, and glass gold beaded chargers for a classic look, but had wild greens and full florals everywhere in-between.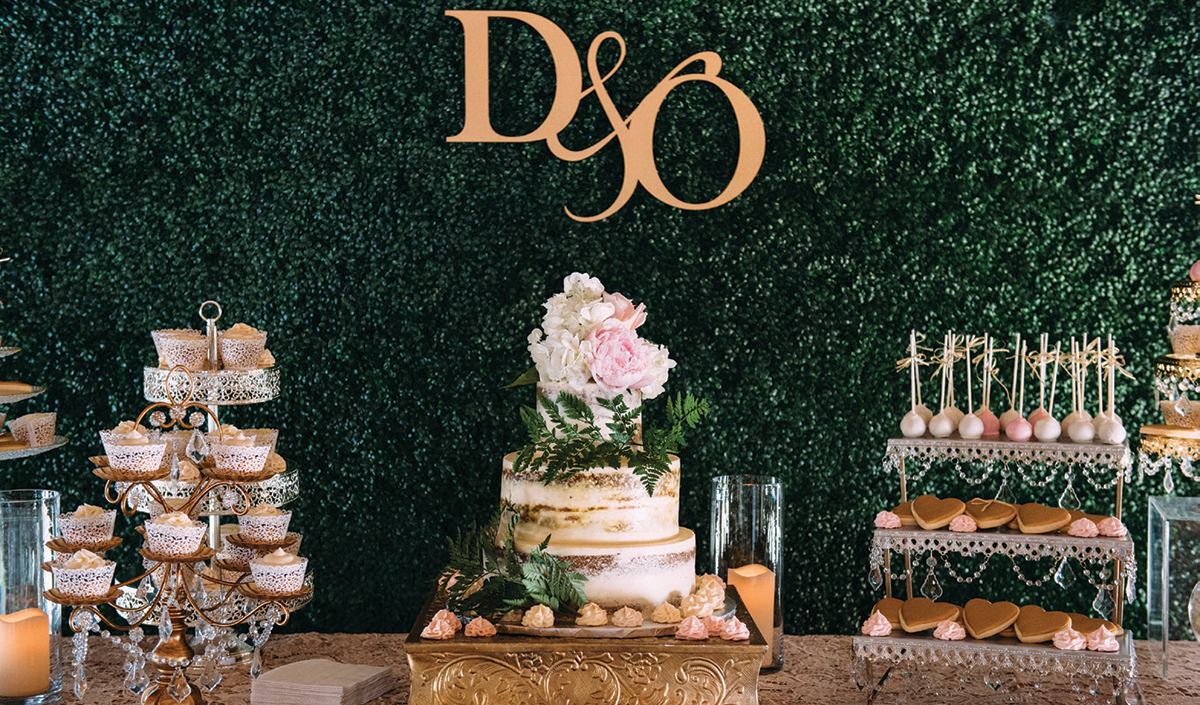 Were you working with specific colours?
I was working with a lighter colour palette, along with greenery. We used soft blushes, pinks and lots of creams. I used rustic golds as well. I love the contrast between dark greenery, gold and lighter creams and blushes; I think it looks very royal. I used that contrast throughout the wedding.
What were the key elements for the look?
I knew the venue was too large to have a regular floor plan, so I situated the head table as a king's table in the centre of the space. No only did this allow everyone to see the couple, it also allowed me to make this table stand out among the others. To that end, I had a gold coloured structure built to "crown" the king's table. A long flat surface on top of two slender support legs, this structure held an immaculate display of gorgeous florals. At the bottom of the structure there was thick greenery with mixed florals and footed floral arrangements. Above, a cast iron chandelier was also covered in flowing florals.
Can you tell us more about the florals and tablescapes?
The florals were very important to this wedding design, particularly the contrast of deep greens and lighter colours. They were unstructured to create the whimsical look the couple wanted. In order to make the huge venue harmonize I had two types of centerpieces: high trumpet vases and low, footed mercury gold vases. The trumpet vases contained the same wild floral design as the chandeliers, whereas the smaller arrangements were tighter. Each table had a very full greenery runner.
What special touches gave this summer wedding wow factor?
Guests need to be wowed right from the start, and one of the biggest wow factors at this wedding was the barn entrance. The barn door opening is 12 feet high and 13 feet wide, and I had it adorned with layers of white opaque drapery that were tied back to make a "curtain opening" with layers of greenery. The contrast with the outside of the barn was stunning. It also served as a focal point for guests to take their photos. It really made the wedding look regal and elegant.
How did you make it happen? How long did it take? What did it involve?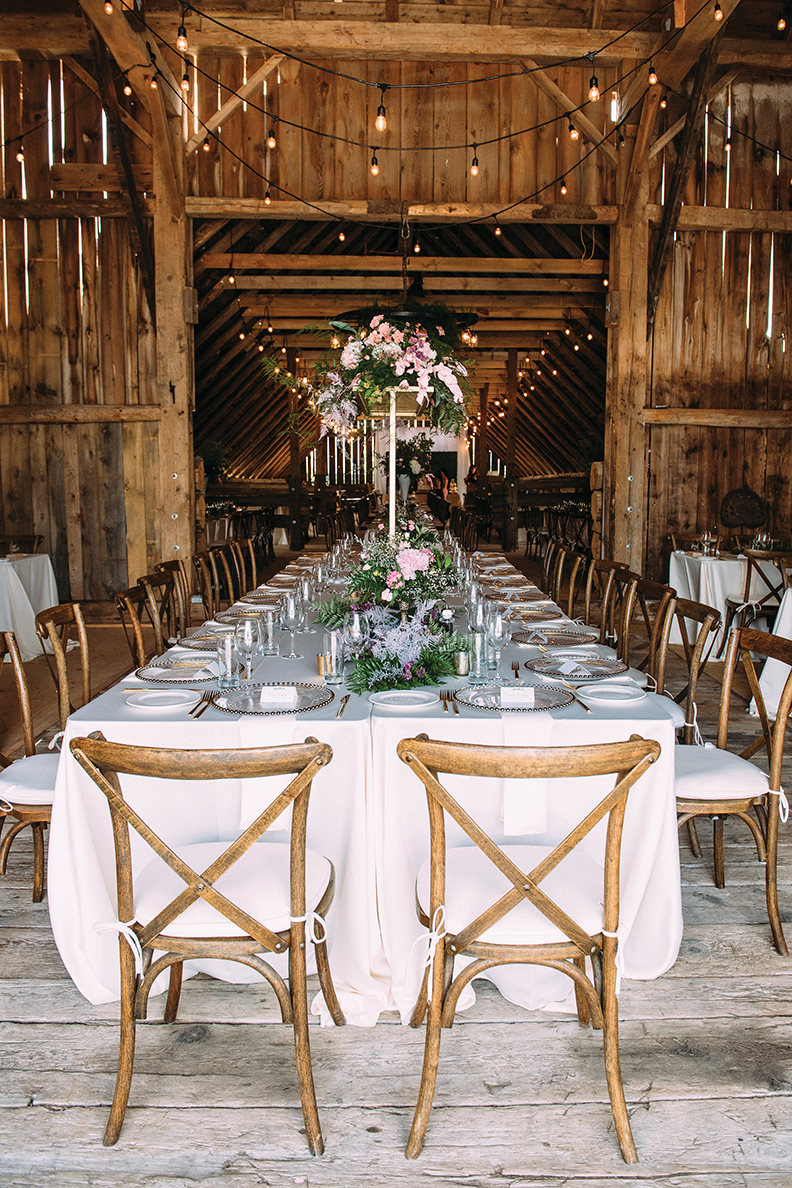 We started planning in the summer of 2018, the design was solidified by December and by January the final pieces were starting to come together. For Olivia and David's wedding, everything including cutlery was outsourced. Meticulous planning, and careful ordering, execution and timing were key, especially since the venue doesn't provide a kitchen, does not have plumbing, and is some distance from the city.
We outsourced a trailer bathroom that had granite countertops and was beautiful. The caterer we hired had worked at the venue before and knew what it entailed. Décor items, such as glass beaded charger plates, cream silk tablecloths and opaque white drapery, could not be set up the night before because of the farm setting; we could not risk any dust settling. My team and I did all the décor from 6 a.m. to 4 p.m. on the day of the wedding.
The timeline was very important as there were vendors in and out of the space, and we were on a tight deadline. Planning a wedding this size in a venue that calls for this much outsourcing takes a lot of coordination and organization. All the effort and expertise were worth it, though, since Olivia and David enjoyed a beautiful dream day.
What vendors were involved?
Eventful by Nicole @eventfulbynicole (on Instagram and Facebook)
Lindsey Gibeau Photography
Acanthus Floral & Botanical
Ulrich's Catering
Prior Engagements
One Eight Bakery