Culture and Glamour
May 12, 2018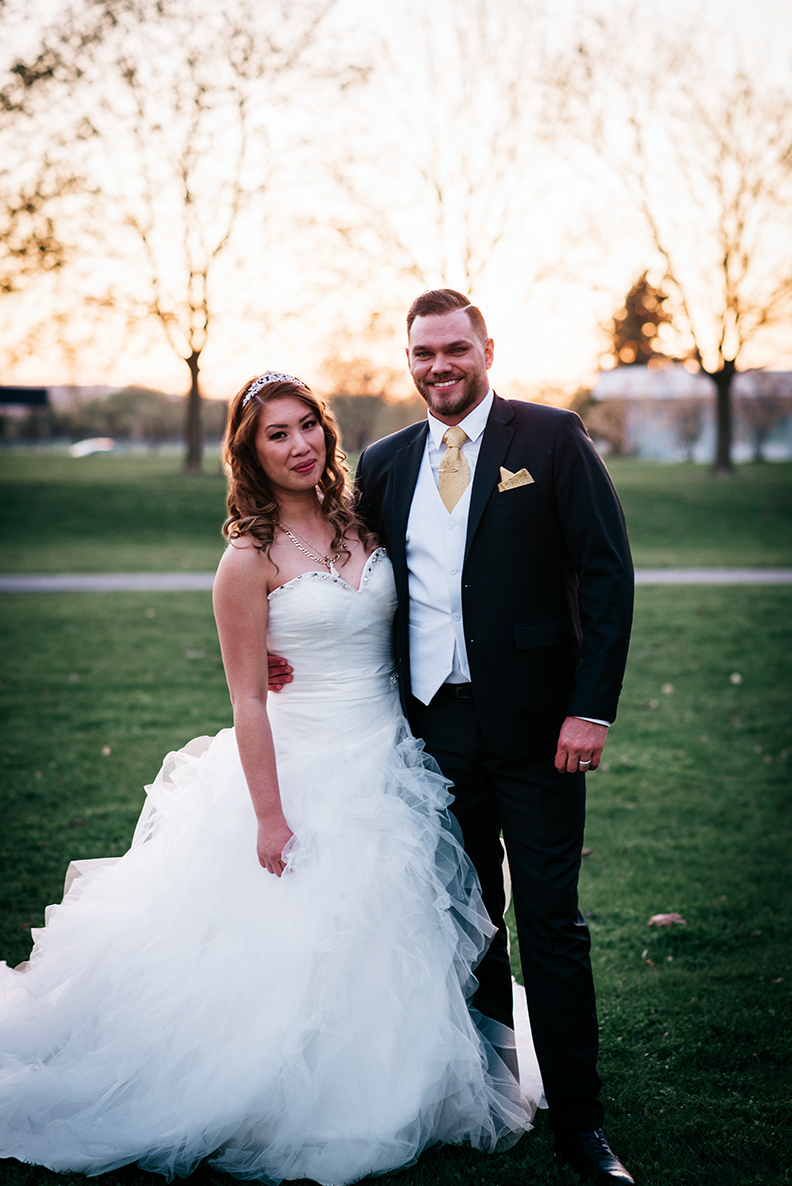 When Kathy went out for dinner with her best friend at the Clocktower Brew Pub in Westboro, she was expecting a get together with her bestie. So she was caught off guard when a good looking guy showed up as well. It was Jason Geleta. And the occasion, in fact, was a blind date. "I ended up ignoring Jason the entire dinner," she admits now.
Eventually, though, she paid attention and on May 12 of 2018, the two got married at the Canada Aviation and Space Museum, a striking space featuring the treasures of the museum's world-renowned aerospace collection. As weddings go, this one was spectacular.
The big day took about 10 months to organize, Kathy says, adding, "We wanted a classic, elegant wedding, with a gold and black colour scheme and simple, timeless accents."
Since Kathy is Vietnamese, the couple also incorporated a number of Vietnamese cultural traditions, including the tea ceremony, lion dancers, and attire.
For the tea ceremony, held at her parents' home earlier in the day, Kathy wore a traditional red ao dai gown and khan dong (headpiece) and Jason wore a blue ao dai and khan dong to honour her Vietnamese heritage. During the ceremony, a time-honoured ritual, the bride and groom paid respect to their parents, families, and ancestors while also formally and symbolically introducing family members from the bride's side and the groom's side to each other.
After, a captivating performance by lion dancers symbolized good luck and fortune.
In fact, Kathy notes, "Every aspect of the wedding had a personal touch, including the ceremony. The picture in the backdrop of the ceremony [at the museum] was taken by Jason on the family's property in Constance Bay."
Festivities at the museum were decidedly glamorous, inspired by the prohibition era and The Great Gatsby. For the ceremony, Kathy wore a feminine fit and flare gown with a beautiful illusion neckline. She accessorized it with a tiara, a fingertip veil and white stilettos. Her long hair was worn in loose curls and both her bouquet and the bridesmaids' bouquets featured red blooms. Jason's gold tie and pocket square added an extra dash of style.
The bridesmaids wore sophisticated two-tone sheath dresses, with sparkling gold tops and white below the waistline. The wedding décor was equally sumptuous, with gold chairs and charger plates, black tablecloths and napkins and lots of dazzle from glassware and centerpieces. The incredible giant aircrafts in the background definitely added dramatic panache.
Even the dessert by Daan Go Cake Lab was a showstopper. A stunning black and gold cake was topped with a thin gold band and then alternating tiers of black and gold macarons.
While there were many highlights in the day, the most memorable aspect of the wedding was the people involved, the bride says. "We had family travelling from all over the world. It ultimately came down to seeing family and friends."