Classic and Elegant
August 17, 2019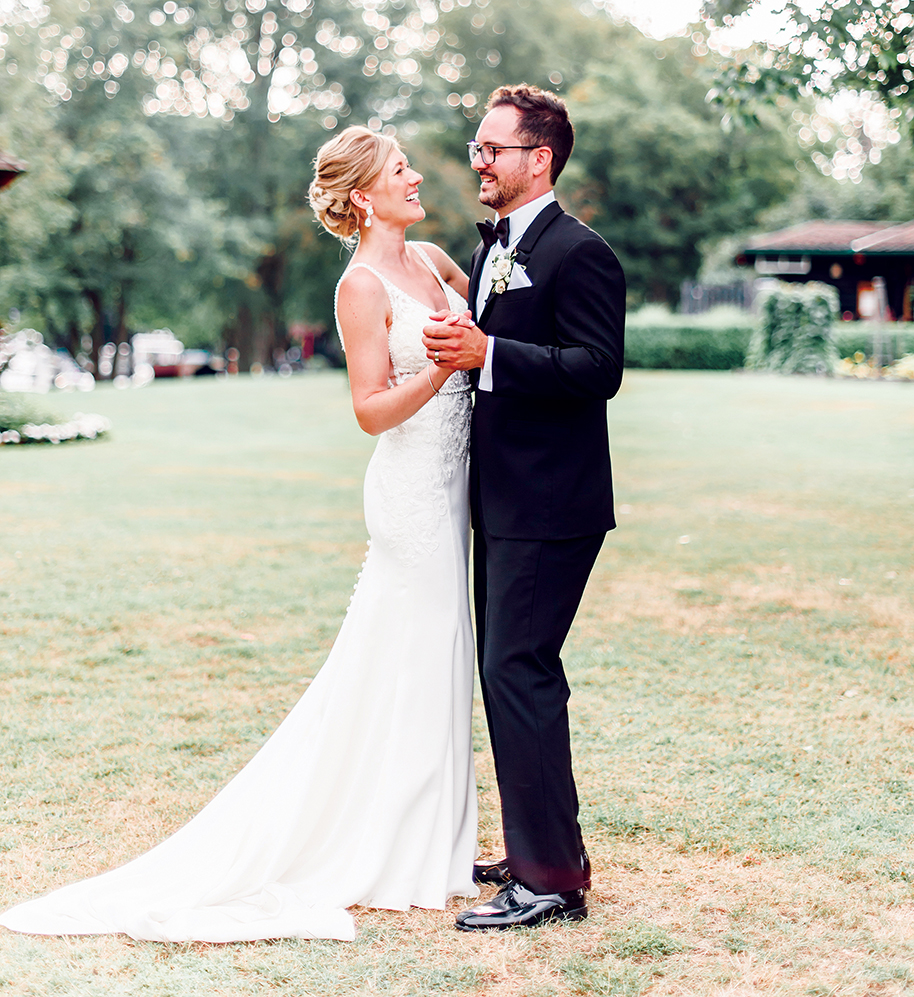 Katie and Ryan met when they were in university and, as a long-time couple, they faced a major life challenge together before ever tying the knot. In 2018 Katie was diagnosed with stage 4 Hodgkin's lymphoma. It was a shock, but through six months of chemotherapy Ryan was by her side. "I am currently in remission and doing better than ever," the beautiful bride reports, adding, "The day I was diagnosed my doctor told me that I had a good prognosis, and after my treatment was over she recommended we go on a trip." So they headed to Hawaii. "One of our first nights there, we were watching the sunset on the beach when Ryan asked me to marry him. It was a moment we will never forget."
This couple's wedding day was unforgettable too. They got married August 17, 2019, at Fairmont Le Chateau Montebello. "It was a fairy tale," the bride says. "The most perfect day filled with so much love and so many emotions." Close friends and family members travelled from all over the world to share in the celebration.
Marianne McLeish, founder and lead designer at Heirloom Events and Décor, helped make it a success, along with what Katie describes as "the best group of vendors." As she puts it, "We feel so lucky that we got the opportunity to work with such an amazing team of people who were so organized and made us feel special throughout the entire process and on our wedding day."
The wedding design theme was French Countryside/French Chateau, and light neutral colours with hints of blush, greenery, and dusty blue helped bring it to life. Ivory linens, blush taper candles and neutral florals ensured the look was light and elegant, while Katie says, "Dusty blue accents, such as the napkins, goblets, and single stem hydrangeas, helped to tie in the blue tones in the carpet." Champagne chiffon runners, gold and glass pillar candleholders and gold chiavari chairs added panache.
"The menus were simple, yet elegant," Katie notes. "They included a customized drawing of the Chateau Montebello at the top, and were topped with a single stem of bleached bunny grass." In its entirety, the design accentuated the highlights of the space: high ceilings, wood beams, big windows and chandeliers. "I really think we accomplished that and couldn't be happier with how it turned out."
Katie's dress was a Stella York design she found, along with her veil, at With Love Bridal Boutique. "I wanted a fitted dress and the style I was going for was classic and elegant. My favourite accessories were my earrings, which were handmade by Sarah Walsh Bridal."
For their day, Katie and Ryan opted not to have a first look. "We are very traditional and wanted the first time we saw each other to be at the altar," Katie explains. That experience was definitely worth the wait. When asked what the most memorable aspect of the day was, she says, "The moment we said 'I do' and walked down the aisle together officially as husband and wife. It was surreal."