Tea Cups and Sweet Voices
September 22, 2018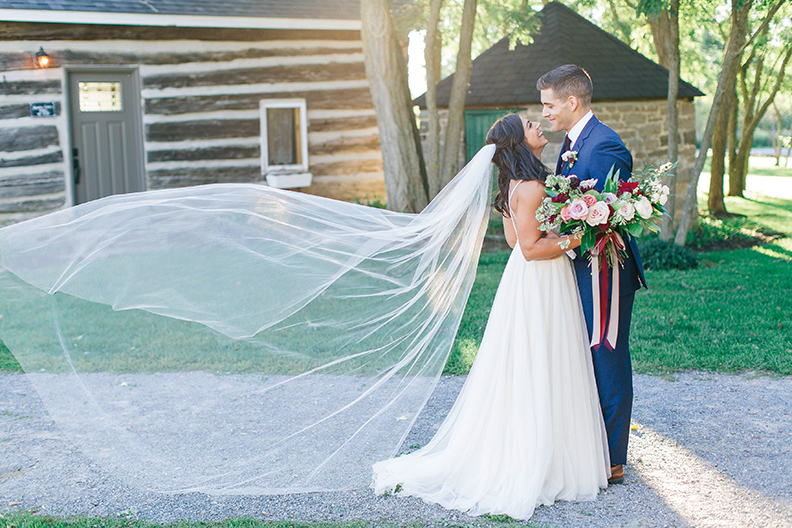 Lisa and Connor tied the knot September 22, 2018, the day after several tornadoes touched down in the Ottawa region. "It was a whirlwind wedding weekend—literally," the bride quips. Despite the flurry of festivities, though, the weather was perfect and so was the day. "We got married at Stonefields Estate, and when we showed up Saturday morning you would have never believed there were tornadoes so close. The venue is a dream."
An autumn wedding was always in the plans for this couple, who met in 2013 and got engaged in the fall of 2017. They spent almost a year planning and organizing their one-of-a-kind day that took place at the 120-acre heritage farm in Beckwith. As Lisa describes it, "Our wedding was light and bright, with meaningful and personal touches to really show who we are."
Those personal elements were truly unique. Lisa is a Grade 1 teacher at St. Brother Andre Catholic School and the school's children's choir performed at the ceremony, singing three songs. Lisa, who refers to her students as her "kids," notes she has taught every member of the choir. "For many, this was their first wedding," she explains, and the opportunity to see "Miss Joyce" walk down the aisle was one they couldn't miss. "Their voices, their faces, the excitement—there was not a dry eye."
Another charming element that set this day apart was the choice for centrepieces. Lisa and Connor used their grandmothers' tea cups. As the bride tells the story, "Our grandmothers could not attend our wedding," since hers had passed away and Connor's was too sick to be present. However, "They both have incredible tea cup collections." Lisa recalls "being fancy" with her grandma and drinking tea from the special cups. Connor remembers his Nonno giving his Nonna a tea cup to honour every anniversary. "We used the tea cups as floral arrangements around the venue and at the tables," Lisa says. "It was a way to have them there with us celebrating."
Connor's Nonno also lent his own special touch to the celebration. The wedding favours given to guests were brandy soaked plums—grown, harvested, soaked and canned by 91-year-old Nonno. "They are a Rosetto family tradition," the bride enthuses, adding, "They are delicious." Not only that, the merlot colour "matched the bridesmaids' dresses and florals perfectly."
The wedding colours were navy, gold, merlot and white, and the couple opted for a lot of greenery to complement "the country charm meets white-glove service" of the venue.
Lisa's lovely, feminine gown, with slender straps and a flowing skirt, was accessorized by elegant earrings custom-made by Sarah Walsh Bridal.
"The whole day was a dream come to life," Lisa says, adding it's hard to pick the most memorable moment from a list of highlights that includes the tornado, school choir, donut wall, fire pit/smores station, and wild dance party. "But, if I had to, it would be a moment that was set up for just Connor and me." After the ceremony and right before the couple joined their guests for cocktail hour, they were led to a picnic set-up, including a bottle of bubbly and hors d'oeuvre, that was tucked into a little nook on the property. "It was just the two of us, for a moment, and it was magical."
Photos by Brittany Lee Photography