Trip of a Lifetime
January 9, 2019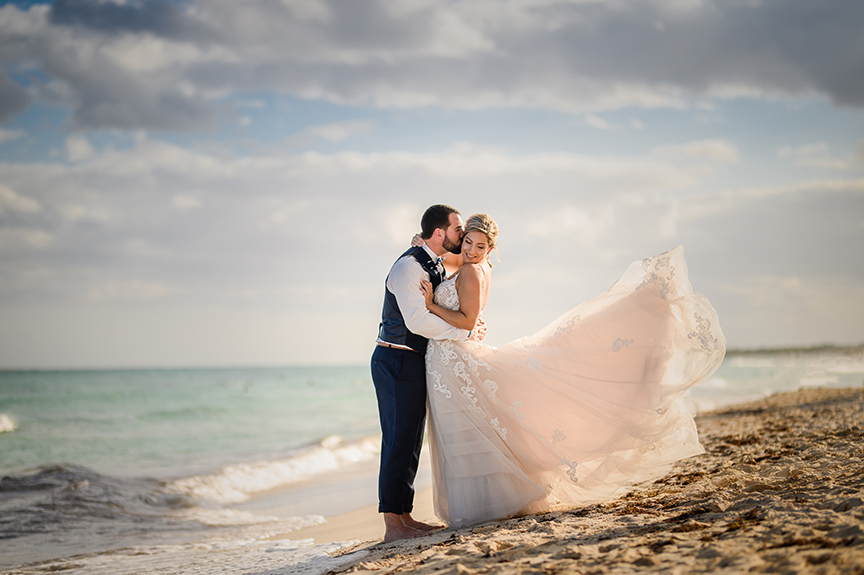 Melissa and Brandon were just kids when they met in Grade 6. "I always had a crush on him, but was too shy" to tell him, Melissa says now. They went to the same high school, though, socialized in the same group of friends, and eventually he noticed. In Grade 12 they started dating and in 2016, after university, they bought a place together. Then on a trip to California in 2018, Brandon proposed at sunset on a beach.
Days after getting engaged on May 25, 2018, the couple picked a date— January 9, 2019—for a destination wedding in Mexico. "This was our 10th anniversary," Melissa notes, adding, "We used a travel agent to book the resort and since we had a large group accompanying us (70 guests) it made it easier to keep everything organized." She describes the resort, Iberostar Paraiso Del Mar, as "amazing. It was a very stress-free week."
In fact, "Having the entire week to spend with family and friends is what made our wedding so special," she says. "It was the best gift we could have asked for to have those memories we will cherish forever."
Though the dream day happened about 5,845 kilometres from home (according to Google), there was nothing generic about these festivities. The bride added plenty of unique touches to make the celebration personal and special. "I was able to bring my own centerpieces and small details such as a drink menu with signature drinks for the day of the wedding," she mentions. The colours Melissa chose were rose gold and dusty rose, and she made the bouquets herself, as well as the boutonnières. The vibe for her Mexico nuptials was Romantic and Playful.
And the wedding wish came true. "I would describe my wedding as a trip of a lifetime," says Melissa. "I wanted everyone to enjoy themselves and also to take advantage of the fact that it was a trip for them, not just for our wedding."
The trip also included a couple of experts from this area's wedding industry. Photographer Genevieve Albert, from Rockland, Ontario, travelled to Mexico for the week to capture all the memorable moments. Genevieve was "amazing," the bride declares. She "allowed us to have an extra photo shoot to ensure we took advantage of the beautiful scenery."
Chantale Leger, owner of The Loft Salon in Cornwall, also accompanied the wedding group to Mexico. She ensured "we were all looking fabulous."
Since Melissa has a makeup business, Glammed Goddess, she did her own makeup for the day and created her personal glammed goddess look.
She got her dress, a dreamy Essence of Australia design, at Juliannah's Dress and Bridal in Moose Creek. "I knew as soon as I put it on it was the one. My hairpiece was also purchased at Juliannah's." Melissa had her garter made from lace from her mother's wedding dress, so it served as her "something old." The bracelet she wore on her big day was a rose gold Swarovski piece that was her gift from Brandon on the morning of the wedding.
"The most memorable part of the day," Melissa says, "was having my father walk me down the aisle and giving me away to my husband." Having all those family members and friends on hand to support them and to be part of the special day was "magical," she adds. "The atmosphere of the day was truly love and happiness."
Photos by Genevieve Albert Photographer