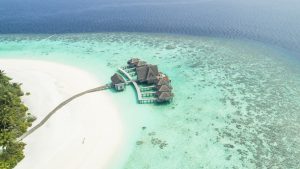 The Maldives is located in the Indian ocean, southwest of Sri Lanka and India. It is the smallest Asian country based on land and population, but is one of the most desirable honeymooning spots in the world, with 1.3 million tourists visiting every year. The Maldives offers 100 exclusive luxury island resorts, surrounded by turquoise lagoons and soft, white sandy beaches, making it a perfect location for a romantic honeymoon. Many resorts have private beaches, infinity pools, luxury villas and a butler service, prioritizing your relaxation to make your honeymoon romantic, but also offering complete privacy.
Top things to do
Spending time as a newly wedded couple on the serene beaches, sipping cocktails and cooling off in the crystal-clear water and blue lagoons is what the Maldives is all about, but there's plenty of other things to get stuck into as well. There are lots of diving spots that are great for snorkeling and scuba diving, as well as water sports, restaurants, markets and the 17th-century mosque, carved from white coral. You should get travel insurance before you go that covers all activities you might partake in. Travel credit cards usually include travel insurance, along with good exchange rates and high loyalty points when used abroad, so they're a good option for taking on your honeymoon to cover the costs of everything you want to get involved in.
Focus on the romance
The Maldives have become a favorite honeymoon spot thanks to its location. The climate is tropical, so the temperature stays a consistent 82-85℉ all year round, just with more rainfall between May-July and September-November. Islands are dotted around the turquoise lagoons and many have overwater villas or bungalows with their own hot tub or swimming pool, giving you complete privacy. Many resorts offer a butler service, so you can have drinks brought to you without having to leave your sun lounger. Some of the top resorts for honeymooning in the Maldives are Kuramathi, Constance Moofushi and Kandolhu.
Getting there
Getting to the Maldives can be the main challenge that deters people. From the U.S., it can take 16-24 hours with layover stops common in Sri Lanka or Dubai, but once you arrive in the capital, Malé, it will all be worth it. You could even spend some time in Sri Lanka or Dubai to extend your honeymoon and do some traveling before going to the Maldives to finish with pure relaxation. Transfers from the airport involves either a speedboat or seaplane trip to your resort, giving you some of your first views of paradise, where you'll see unforgettable shades of blue, marine life and white-sand beaches.
The Maldives can't be described as anything but paradise. It's the perfect place to go on your honeymoon, packing in sun, sea, sand, beautiful views and pure luxury. The traveling can be tiring, but it'll be worth it once you arrive as locals and resort staff will do everything they can to make sure your honeymoon is perfect.