Whether you're planning a micro wedding, a major bash for later or both, Ottawa expert Lori Dyck dishes timely info to achieve the look and experience you want. A creative dynamo, Lori is not only proprietress of Ottawa's Showpony Hair, she's a sought-after bridal and editorial stylist, as well as a technical advisor and educator. She graciously answers our questions: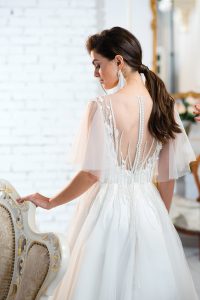 What can brides do now to get the hairstyle they want?
Petite wedding or a larger traditional wedding: the overall experience is really the same. It's a moment to be celebrated, documented and remembered as a milestone. I think the impression we are getting from most of our brides who have decided to have a petite wedding now and postpone the [larger] celebration until they can gather with all their loved ones is that the actual ceremony is an important part of the tradition for them. They still want to look their best: confident and beautiful.
Since COVID restrictions have been lifted, the only slight change [noticeable to brides] might be our mask-wearing, physical distancing while getting ready and the increased focus on cleanliness and hygiene. Separating the wedding events, for us, has been a potentially unique opportunity to have a bit of fun. Our styles are less constrained by the need to "make it last" for 16 hours since many have opted to postpone the party—for now. It opens up a world of options, and the opportunity to create two unique looks for one bride is exciting!
No beauty team? Consider a mini styling kit and an online tutorial
For those who decide to go it alone without a beauty team for the day of the ceremony, we invite brides to consult with one of our team members to get advice tailored to their unique hair situation. We can work with brides to put together a mini-styling kit with all the products and tools required for the big day. We can even couple that with an online tutorial to impart the tips, tricks and knowledge required to get the look they desire. Or come into the salon for a simple blow out; the perfect day deserves the perfect hair and we're here to help.
For brides who prefer to manage their own hair, simple, clean and classic looks are timeless and, more importantly, achievable without professional help. We suggest these brides can't go wrong with a simple chignon or nicely blown-out hair. The key is to keep it simple; attempting something entirely new can add unnecessary stress. We advise our brides to stick to what they know and hair that makes them feel good; add a few decorative pins, flowers or a headband and voila!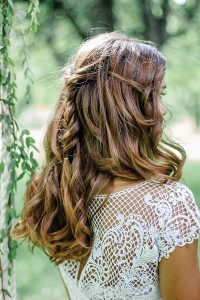 What are the trends in bridal hair?
Down is definitely the new trend, as are ponytails. Simplicity seems to be having its moment. Long, loose and soft, or sleek, smooth and
polished: it seems to be less about detail and more about texture. The looks inspiring brides this season have an effortless air, not too structured or too tailored. The looks have a soft finish around the face or are gently tucked behind the ear.
Styling advice?
We often see brides who love an image or style but worry about the limitations of their hair. They think their hair is too short, too thin or over-processed; they're not sure about the suitability or how the weather will affect them on the day. The beauty of it, though, is that the solution is often very simple. Brides need to be realistic about their hair type and density and source images with hair similar to their own— both looks they don't like and looks they love. Doing so helps to filter ideas. Then, when they start revisiting the collected images, more often than not, brides find they have saved basically the same few looks over and over.
Part of our joy is finding a way to help brides realize whatever vision they have, or working with them to define a realistic and beautiful alternative. There are so many options to help brides achieve a look that may not be obvious to them: from colour to fillers, hair extensions to product choices and so on. A consultation and trial are the best ways to alleviate any concerns early as we can anticipate individual needs, build confidence and validate expectations. We have experience; there is not much that's hair-related you can throw at me that I'm not prepared for/can't handle. I think brides feel that and connect to it.
What are a bride's options for the full-scale event with a bridal party? How far in advance should hair arrangements
be made?
I honestly don't think our approach (or our brides) will differ too much. We've spent the last few months arranging and rearranging dates with brides and we know how tough COVID has made things right now. We feel it too. When the restrictions ease, we think weddings will offer a perfect opportunity to celebrate and rekindle the sense of community we have all been missing—bringing together our friends, family and loved ones to share and revel in the occasion. Post COVOD it'll just be easier to coordinate.
One of our core values is centered on building trust, understanding and a relationship with our guests. This is an invaluable aspect of delivering the best possible experience for our brides. Whether it is a bride or a bridal party of twelve, this relationship is equally important. With that in mind, Showpony tends to book a year in advance. We are a team and can easily accommodate larger bookings, but, as with many
aspects of wedding planning, it's key that brides plan ahead. We offer on-site services at the location of the bride's choosing or we can offer the privacy of our salon, whatever is most comfortable and convenient for the bride. We are really fortunate to have a full-time wedding coordinator who is the dedicated point person for our brides; she can answer any questions and coordinate scheduling.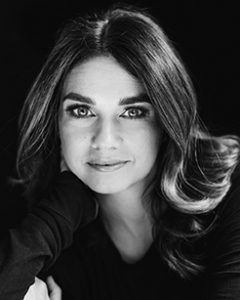 Lori Dyck's reputation for excellence has earned her the privilege of working on the heads of celebrities, TV personalities and film stars. Her work has appeared in numerous print publications and on various digital platforms. She has also regularly appeared as the guest hair expert on CTV Morning Ottawa. As a technical advisor and educator, Lori has shared her craft with hundreds of stylists across North America