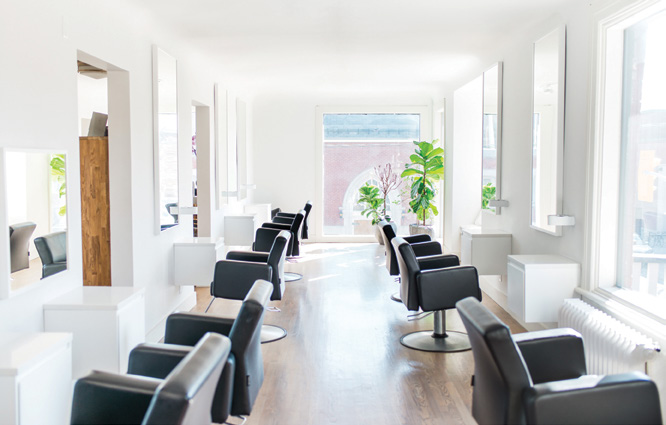 Look and feel your best
By Beka Shane Denter
There's a shift in how brides are approaching prep for their big day—a long-term investment in mind, body and soul in place of a mad-dash the week of—and local wedding industry services are happy to oblige. Here's how The Upkeep Shoppe, Showpony Hair, and The Dailey Method Ottawa Barre + Cycle can help you look and feel your best.
SKIN AND NAILS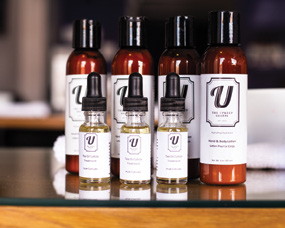 I'm sitting upstairs on a soft couch in the cozy lounge of The Upkeep Shoppe on Preston Street across from founder Natalie Esau, whose passion for all things esthetics is inspiring.
Natalie knows a lot about nails, skin and well-being and has done a formidable job at creating a space that caters to a clientele committed to wellness. After bringing me a cup of one of their signature in-house teas from the Tea Boutique I notice that everyone here is smiling—staff and customers are relaxed and happy. I take a sip of the Exhale tea—a peppermint and lemongrass combination that promises to leave me feeling balanced, cool in body and calm in mind—a perfect blend I imagine for an overwhelmed bride on her big day. Although already married, I appreciate the soothing aroma and enjoy the warmth of a delicious tea on this cool fall afternoon.
The Signature tea line also includes an Elixir, Detox and Balance blend available to enjoy during one of the services or for purchase. Natalie mentions with a smile that during their 5-7 p.m. Wednesday happy hour, seasonal blends can be combined with a splash of alcohol. A summer favourite among her clientele is the strawberry sweet tea with coconut rum and for fall it's an apple crumble tea with a spiced whiskey. The idea is to offer wellness signature teas as a complement to the services. Drinks aside, clients can look forward to enjoying a social, chic relaxing atmosphere at this Little Italy spa. Its inviting space is the kind of place you will want to enjoy either solo or with a few friends.
Natalie encourages brides to begin an investment in their skin and nails three months prior to their wedding day. "Regular spa visits will help develop trust and confidence in the services and products," she says. Upkeep offers a skin consultation and facial to identify the skin's individual needs. Natalie suggests brides commit to following a basic cleaning, exfoliating and hydrating ritual on a daily basis for optimal skin health. "Facials can be performed weekly or monthly up to the big day, depending on one's skin condition." Regular facials are great for prepping skin to ensure a lasting glow.
"Depending on your skin, it's best to start paying attention to the finer details well ahead of the wedding date and work with issues such as breakouts, dryness, or redness that may be associated with the stress of wedding planning—issues that may not have bothered someone in the past," explains Natalie. She sees a lot of brittle nails, a possible result of stress and long Ottawa winters. Eyebrows are another area she suggests looking at in advance—allowing ample time for corrective work or growing them out before committing to a regular regime to get them in top shape for the big day. Eyebrow waxing and shaping is done a week before the wedding so that the makeup will sit better on the skin (and minimizing potential reactions.) Clients often begin regular brow visits every three to four weeks, to get them into top shape for the big day.
For the wedding day, Natalie encourages all brides to have a hydrating mist on hand to keep the skin moist and to help set make-up. As well, a Vitamin K eye cream will help reduce the appearance of dark circles. "And hand cream to hydrate those hands before photos," she adds.
It's important to note that all services can also be enjoyed by grooms-to-be looking to join their partners at regular appointments or simply for a quick fix before the big day.
All services can include a relaxation massage performed by an esthetician. Natalie recommends adding these on as you get closer to the wedding date, as even a 25-minute massage can help to lessen stress, release endorphins and enhance immunity, as well as improve the condition of the skin.
The Upkeepe Shoppe can accommodate up to groups of eight for a bridal party. All services are in-shop only. To find a complete list of services and pricing, visit The Upkeep Shoppe at upkeepshoppe.com
HAIR
On the corner of Bank St. and First Avenue, you'll find the salon with the catchy name—Showpony Hair. As I step into the bright, second-floor space, I'm instantly transported to a tranquil state of mind where I'm warmly welcomed by the receptionist. Proprietress and Salon Director Lori Dyck and her team of stylists are committed to customer service. "Our core value is that building relationships with our guests and understanding the community in which we work is invaluable to understanding how, as a team, we can deliver the best experience possible." At Showpony Hair, consultation is key. "We cultivate the trust of our clientele through a culture that privileges professionalism, continuous education of our stylists, individualized attention to detail and a commitment to get it right for each and every one of our customers," explains Lori.
"We always invite brides to come in and consult with one of our team to get advice tailored to their situation, specific needs and budget. For some it might be a great cut, others a tailored year-long plan to healthful hair. Bring us your goal and we will work with you to get there." Lori suggests brides take a few general steps to ensure their locks will look and feel their best for the big day:
Three months prior: Olaplex treatments—they help to restore compromised hair. We would recommend that it begins a couple months prior to your wedding day to repair minor hair damage and ensure the strongest, shiniest and healthiest hair possible.
One month prior: Keratin treatment – if you have naturally curly or unruly frizzy strands—this is a great way to smooth out your hair and ensure your texture is under control for your big day.
One week prior: A trim prior to the day simply to clean up the shape and bring your ends back to life. Even if your goal is to have long flowing locks—clean ends always look more polished.
A glossing treatment is perfect if the hair is healthy, but you want a little extra shine
Lori and her team often see brides who love an image or style, "but are worried that the limitations of their hair will prevent them from pulling it off: hair is too short, too thin; over processed; or (they are) not sure of what suits them." The solution, Lori explains, is often very simple. "There are many options to help brides achieve their look that may not be obvious to them—from colour to fillers to hair extensions, product and beyond.
A consultation and trial are the best ways to alleviate any concerns so that we can anticipate your individual hair needs and achieve the look that you love on your wedding day."
To put brides at ease, Lori suggests a trial a couple of months prior to the wedding day; this often is reassuring. "We take photos, write notes and adjust until we both feel assured—'This is it!' Trials really are for us as much as them—they build confidence in the technical execution and validate expectations."
In order to help make all of the above possible, Showpony offers a 25 per cent discount off hair services leading up to the wedding day—"because we appreciate wedding expenses can be high; every little bit helps." Another bonus is that "we have a full-time wedding coordinator at Showpony – a dedicated point person for brides who will answer any questions and coordinate scheduling." Showpony offers all services in the privacy of the salon or at a location of the bride's choice: "which-ever is most comfortable and convenient for the bride," says Lori.
Top four hair products to have on-hand on your wedding day:
Texture spray
Light-hold hairspray
Volume powder
Shine/glossing spray
"I find it most rewarding when I step back from a bride and hand her the mirror to see herself for the first time. As soon as they smile—my heart is full. Day made." The approach at Showpony is working. "Many of our brides have become clients and we get to continue their story with them—it's incredibly cool," adds Lori with a smile. For an up-to-date list of services and pricing, please visit showponyhair.com
FITNESS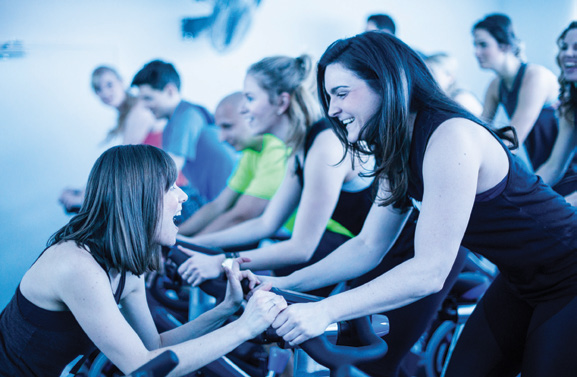 Sarah Thompson and her team of enthusiastic instructors at The Dailey Method Ottawa are here to help prep your mind and body for the big day. Thompson, a master barre teacher and co-owner of The Dailey Method Ottawa, recognizes the importance of physical well-being and how this is a pivotal part of looking and feeling your best—not just on your wedding day—but as a long-term investment in self-care.
"We're all about making fitness an enjoyable part of your lifestyle," enthuses Sarah. "Our studio offers a sense of community, inclusiveness and support for our clients." With a variety of classes on the schedule, The Dailey Method at the corner of Bank & Fifth Avenue can be your one-stop shop for fitness. Barre, cycling and yoga classes create a balanced workout of cardio, strength training, stretching and mindfulness.
When combining all three class styles—brides to be will be able to achieve whole body fitness and well-being. "It takes six weeks to see and feel changes in your body if you're taking a minimum of three classes per week," says Sarah. "There is no cookie-cutter solution, as each bride's body type and needs are unique, and everyone has different goals." At The Dailey Method, it's easy to tailor your workouts to ensure you're reaching your wedding day goals. "Clients receive individualized attention, minimizing injury and ensuring results."
Barre will give you "long, lean, toned muscles." A quarter of every barre class is spent stretching. "It's a complete workout." The cycling classes are intense cardio workouts ranging from 40-60 minutes.
"These classes provide a high energy, musically infused, full body workout that leave clients with more energy for the rest of the day." To balance the strength and cardio components of your workouts, Sarah recommends including a yin yoga class one or two times per week.
"Our yoga classes will leave you feeling deeply relaxed and restored. They allow your body to open and release through holding passive postures and stretches. This is a great way to improve your flexibility and address tight muscles." Sarah knows firsthand the benefits of The Dailey Method classes. "Doing the classes was important during the stress of planning my own wedding. It was this 'me' time that kept me feeling balanced, healthy and ready to take on the next challenge of the planning process."
A variety of price packages are available. To view pricing, schedule and special offers: thedaileymethod.com/studios/ottawa/overview.