Music that makes the day uniquely personal and magical
Photos by Rosielle + Co.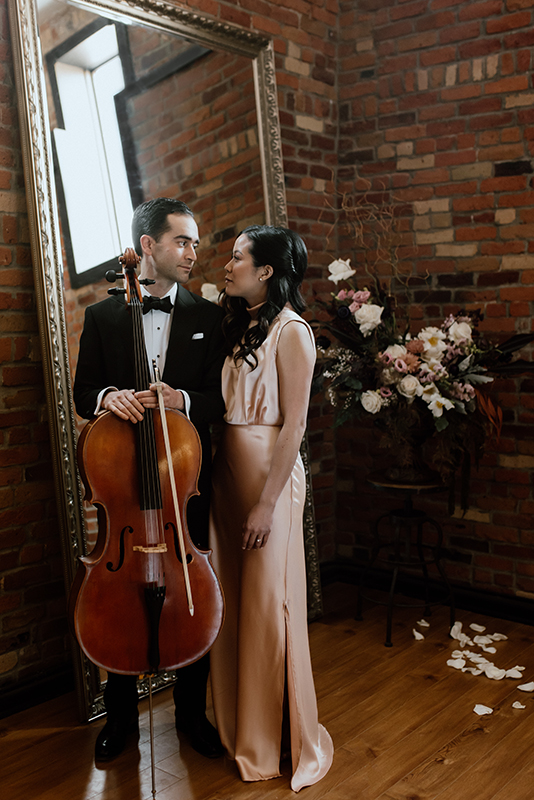 If you're immersed in all things wedding, as you get ready for your own, you've probably heard of Luxe Duo. The Ottawa-based cellist and pianist are widely acclaimed for their gorgeous performances through wedding season. In fact newlyweds far and wide wax lyrical about Brandon and Dian, the husband and wife whose love, connection and passion for music make a special celebration all the more moving and memorable.
"We've lost count at this point, but we've probably played for over 500 weddings," Dian says. "In 2021 alone, we played for over 50 weddings and we've got close to 40 booked for 2022 so far." (She made that comment in November, so if you're booking for 2022, don't procrastinate.) Online reviews and ratings are uniformly 5.0 out of 5.0, with many people reporting Brandon and Dian's performance made their day.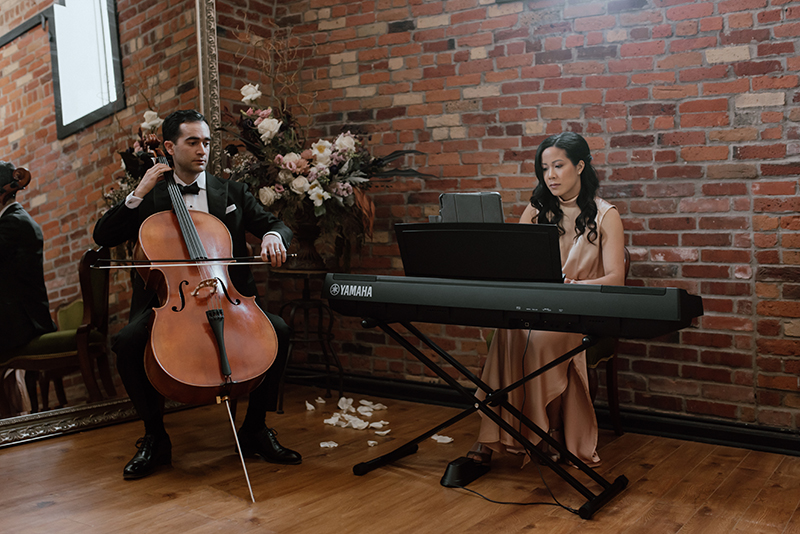 "Walking down the aisle to my now husband was the most romantic and amazing thing, and I truly believe that the [live] music playing was one of the main reasons," notes Google reviewer Olivia DiNardo. "Our guests were so happy with the beautiful music, and there were not many dry eyes in the room! The piano and cello combination was truly beautiful and I would absolutely recommend Luxe Duo to every person I know."
Dian and Brandon's own love story started in the Ottawa Valley. Dian grew up in Deep River, while Brandon's family lived in Pembroke. They met when they were teens, though they attended different high schools. Dian had been playing in the Deep River Symphony Orchestra for a couple of years when Brandon joined in September 2000. They've been making music together ever since.
They pursued music degrees at university, formed Luxe Duo in 2010 and moved to Ottawa in 2014. Along the way they fell in love and had their own wedding. Today they have two children, a seven-year-old daughter and a five-year-old son. They also have a stellar reputation.
When asked what makes them popular for weddings, Dian says, "We think that people are able to hear in our playing that we've been playing music together for a long time and we have a special connection and seamless communication. And we're married. Also, we are passionate about our work, and we care about our couples and our relationship with them. We always strive to tailor our work to suit our couples' needs, and we think that makes our duo attractive."
Choosing the music for a wedding is a collaborative effort, she adds. "We work together with each couple in the planning process. We ask them for their tastes in music, and the vibe they're going for on their wedding day; we ask them to choose the main songs for the ceremony, processional, signing and recessional; and then we can come up with a customized set list that will hopefully reflect each unique couple."
Their repertoire is extensive, updated regularly, and they welcome song requests. That flexibility extends to locations too. Brandon and Dian have performed at countless venues in Ottawa, the Ottawa region, the Ottawa Valley and beyond, from Prince Edward County to Montreal and Toronto. Not only can they travel to your preferred venue, they make music indoors and out. "As long as we have shelter from the elements (to protect our instruments and gear), we can definitely perform outdoors. We even have a battery pack that we bring along with us for events where there is no access to electricity," Dian mentions.
At a time when weddings aren't the way they used to be, due to the impact of the pandemic, she and Brandon also bring the magic. "Live music is so special and we've found that more and more people are looking for a way to make their wedding day extra memorable because they are having to make sacrifices in other aspects of their day.
"We love that we get to share our music with others, and that we get to be part of such happy celebrations. Being surrounded by so much love and joy really helped us this past year, especially, when there was so much stress and chaos in life. We feel so lucky to be doing what we are doing." luxeduo.com