The Wedding
Since wedding norms have been upended this year, there are actually more opportunities than ever to create the celebration you want. Gap Weddings, Micro Weddings, Zen Weddings and other new possibilities have been introduced, paving the way for you to host a one-of-a-kind party or even two special occasions—without traditional obligations. Sophie Branchaud, owner and creative director of Sage Designs, answers our questions about Gap Weddings.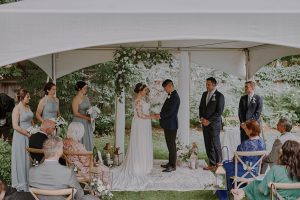 CAN YOU TELL US ABOUT THE GAP WEDDING TREND?
A Gap Wedding is when a couple decides to host the official marriage ceremony on their original wedding date (or on another day in 2020) while respecting gathering limitations and social distancing rules. But, they also plan to host a vow renewal followed by a large reception next year so they can celebrate with all of their family and friends to the fullest extent: hugs, kisses, dancing—the whole shebang. Now if that's not the definition of having your cake and eating it too I don't know what is.
WHAT ARE THE POSSIBILITIES FOR AN INTIMATE CELEBRATION?
Couples have a unique opportunity right now, and within these new [circumstances] and restrictions they're finding a tremendous amount of freedom. Some have wanted an intimate celebration all along, but felt they couldn't leave anyone off the guest list. Others would love to forgo the dancing and partying but have felt pressure to follow tradition. The fact that couples get to rewrite the rules cannot be overstated. I've found our clients to be much more open to unique ideas, to trying things outside the norm.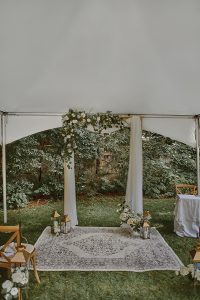 By hosting an intimate celebration, couples are able to really spoil their closest friends and family members. Smaller numbers allow them to have it all: delicious food, spectacular musicians, magazine-worthy florals and decor, custom stationery and favours; the list goes on.
The year 2020 has broken the mould for what weddings are supposed to look like, and I anticipate we'll see a lot more couples thinking outside the box when planning their celebrations in the future. I'm very excited to see how these 2020 celebrations reshape and redefine the future of weddings.
ADVICE FOR COUPLES CONSIDERING A MICRO WEDDING OR A GAP WEDDING:
Toss out the rule book. Hosting a Micro Wedding or Gap Wedding gives you the freedom to have a lot of fun with your day. Arrange your ceremony chairs in a spiral, hire that live event artist to paint your reception, splurge on those fancy acrylic menu cards, hire someone to design a custom Instagram filter for your wedding. The options are limitless.
Definitely consider hosting a vow renewal during your big celebration next year. You can write your own vows, share a story that sums up your first year of marriage and share the hard-won wisdom you've acquired through your 12 months of married life.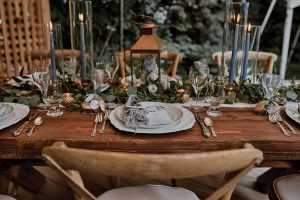 Hire a planner. If you're navigating a Micro Wedding and/or Gap Wedding, this decision is even more essential. Many intimate ceremonies are taking place in unique venues that don't normally host weddings, so you'll want an expert on your team who can make sure every detail has been considered and everything runs smoothly.
Smaller doesn't necessarily mean cheaper. Many vendors, including DJs, photographers, videographers and musicians, don't charge based on guest count. Other vendors and venues still have minimums they need to charge in order to sustain their business. Most vendors have lost 90 per cent of their revenue for 2020. While they really want to help with your intimate celebration they also have bills to pay and mouths to feed, so please be kind.
ANNA AND KRIS'S GAP WEDDING VENDORS
Planner: Kennedy Event Planning, Shannon Kennedy; kennedyevents.ca
Decor Rentals & Florals: Sage Designs, Sophie Branchaud; sagedesigns.ca
Officiant: iPronouce You, Scott Rothwell; ipronounceyou.ca
Photographer: Rubicon Photography, Ryan Seyeau and Laine Gistafson; rubiconphotography.com
Videography and Live Stream: Union Eleven Photographers, Andrew Geddes; unioneleven.com
Hair: Kayla Kenney Hair Styling, Kayla Kenney; 613 204-3057
Tent: Rebel Tents, Kiera Lennox; rebeltents.com
Catering: My Catering Group, Derick Cotnam; mycateringgroup.com
Cake: Batter Up Bakery, Jamie-Lynn Pokrzywka; batterupbakery.ca