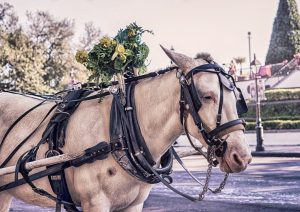 The bride and groom's transportation is a huge consideration, with the average Canadian spending $600 on the wedding car alone. This is the start of your journey towards marriage and you will want to choose something that represents your life ahead and personality as a couple. You also want to make an impression as you pull up to the venue. Therefore, your wedding plans may need to include transport that is unique. This will reveal your quirky character and leave a lasting impression on guests.
Double Decker Bus
Traditionally, the bride will travel to the wedding venue with her father, while the groom arrives in a separate vehicle with the best man. For this reason, couples usually use small and intimate road vehicles. However, why not change things up? Rather than meeting everyone at the venue, the bride, along with all her bridesmaids and best friends, could consider something bigger like a double decker bus. This offers the space to get the party started early and will make an impression. Go for something stylish and retro. If you're inspired by British weddings, you could keep things authentic with the traditional red London double decker.
Helicopter
This one might be expensive, but it offers the chance to make an impression that people won't forget. The day is all about you, so consider making a bold statement by being helicoptered into the venue. This is perfect for an outdoor wedding on a beautiful summer's day. If you are feeling really brave, you could parachute your way down to represent the action packed and adventurous nature of the marriage ahead.
Riding an Exotic Animal of Your Choice
It is surprisingly easy to find a donkey, camel or elephant ride these days. You will of course want to check that you find a company with a strong animal rights record, but this can be a truly unforgettable experience for both bride and guests. This should especially be considered if it is in keeping with the local region. For instance, arriving on an elephant would be perfect for a Thai beach wedding, while a Moroccan marriage is best started on camelback.
The best weddings include a combination of tradition and personal twists. Put your own unique stamp on your special day with an epic arrival. Double decker bus, helicopter, or riding an animal are a good start, but get creative and see what interesting ideas you can come up with.